UNABLETOTHINKOFNAME REVIEWS
THE DEVIN TOWNSEND PROJECT
DECONSTRUCTION
Devin Townsend
is metal's greatest cult genius and one of its most revered heroes. But even with his illustrious and enormous back catalogue,
Deconstruction
goes further than he ever has before...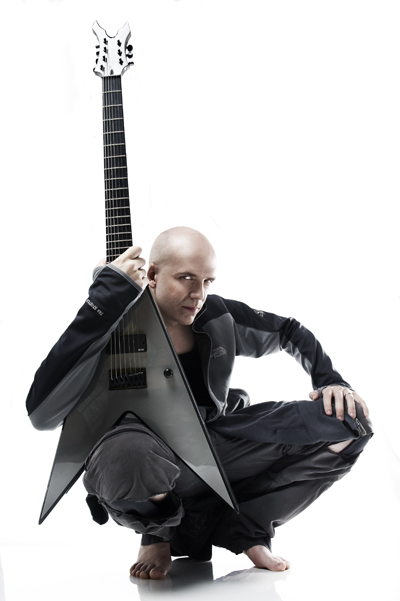 The great man himself.
The 3rd of 4 albums released under the Devin Townsend Project name,
Deconstruction
is a far cry from both the lengthy soundscapes of
Ki
and the glorious sugary pop-metal bounce of
Addicted!
. It's been bigged up as the "heavy" (or perhaps hevy) album of the four, and it certainly doesn't disappoint in that regard.
Not that you could tell from opener
Praise the Lowered
. Beginning with bleepy electronics over a simple, trip-hop beat, Devin's perennially underrated croon drifting over the top, while the beat gradually builds to a fearsome crescendo as Devin switches from crooning to his famous, hysterical shriek, ranting about acid and crack cocaine and losing everything, until the song slowly fades out after the tumbling guitars and double bass bring it to a close.
It fades immediately into the next track, the 10-minute, slow-burn epic
Stand
, with Opeth's Mikael Akerfeldt providing his famous growl.
Deconstruction
's main selling point for me was the truly mind-boggling number of guests, invited onto the album due to Devin's (rather silly) lack of confidence in his own screamed vocals.
Stand
sweeps through soaring choral passages, Eastern-esque riffing and a creepy quiet section.
The fearsome blasts of
Juular
follow next, the first to feature the second of the album's 2 drummers (Ryan Van Poederooyen of the Devin Townsend Band and live drummer for the Devin Townsend Project, and Soilwork's Dirk Verbeuren), with the latter especially showcasing some truly mind-boggling kit skills on later tracks.
Juular
itself is a blistering 3-minute blitz of blastbeats, chanting choirs and legendary black metal vocalist Ihsahn (formerly of Emperor)'s inimitable rasp on the chorus.
Another of the album's many epics,
Planet of the Apes
, spirals through 11 minutes with the full 60-piece orchestra and 20-piece choir
Deconstruction
was recorded with being put to full use, with Meshuggah-esque riffing and drums (speaking of which, it contains one of the finest lines ever written.) carrying it along, with Tommy Rogers of Between The Buried And Me providing the growls as it flows magnificently through innumerable sections.
"While we all have lots of bands who influence us, still we all rip off Meshuggah..." Yeah, take that, djent!
The brilliantly dark
Sumeria
follows next, pitched somewhere between a Gojira-esque chugger (whose frontman Joe Duplantier pops up to roar along, as well as Cynic's Paul Masdival) and a classic Disney animated movie villain's song. After 5 minutes of pounding metal, it suddenly comes to a halt, a beautiful music-box chime leading the song to its finish, and on to the album's undisputed, insane and utterly brilliant highlight.
The Mighty Masturbator
is difficult to even begin to describe. At 17 minutes long, it's easily the longest song Devin's ever recorded with any of his bands (excluding his one-track ambient
DevLab
and other ambient work
The Hummer
). It begins as a mournful acoustic lament of a life wasted in work, before devolving into...I can't even begin to describe it. It takes in a doomy chug section, bouncy piano a la
Bad Devil
from 1998's
Infinity
, and a truly, utterly insane but never less than brilliant orchestrated techno midsection, with The Dillinger Escape Plan's Greg Puciato screaming about God and Satan, before it devolves into a deranged but hilarious carnival final blowout. Genius isn't enough.
There's no chance to recover as the mile-a-minute blasting of
Pandemic
starts immediately, with background ranting reminiscent of
Oh My Fucking God
from Strapping Young Lad's
City
(though less...insane). After Forever's Floor Jansen guests this time around, her operatic wailing matching strangely well with the furious speed of the song.
The title track comes next. Matching
The Mighty Masturbator
for pure insane factor, it begins with fart noises and discussions about brains and cheeseburgers, before a finger-mangling riff provided by Meshuggah's Fredrik Thordenal sets the tone for the next 10 minutes. It's pretty indescribable, but it's technical, fast, totally ridiculous and totally brilliant. Much like the rest of the album.
The final track
Poltergeist
is the perfect closer, the main event of the deeply silly story having passed (the story of a man who makes a deal with Satan to learn the secrets of the universe, and...it involves cheeseburgers, figure it out for yourself.) Darker in theme and music than everything else on the album, it's in no way the best, but it's fantastic nonetheless.
Deconstruction
is near-impossible to review due to the huge depth, complexity and sheer insanity of the music involved. It's something you need to hear for yourself, and I mean need. If you're a fan of metal, it's pretty much essential, even as deranged as it is. Want to find out why people like me revere Devin so much? Get
Deconstruction
, and get it now.
Score
Spoiler:
For Fans Of
: Meshuggah, SikTh
Recommended Tracks:
The Mighty Masturbator:
Deconstruction:
Juular:
Tune in
tomorrow
next week
soon for my review of the fourth Devin Townsend Project album,
Ghost
!
______________________________________________________________________________________________________________________
Loved this album. Planet of the Apes was probably my favourite track. Ghost was brilliant too, despite being pretty much the complete opposite of Deconstruction. That's why I love Dev.

______________________________________________________________________________________________________________________
I'll hit you so fucking hard your children be born with dits! Your grandchildren will be born with dits!

Terria

Michele Bachmann




Posts

: 2365


Leprechaun Gold

: 22201


Pineapple Power

: 17072


Join date

: 2010-10-09


Age

: 22


Location

: Scotland



Freebird wrote:Loved this album. Planet of the Apes was probably my favourite track. Ghost was brilliant too, despite being pretty much the complete opposite of Deconstruction. That's why I love Dev.
Planet's great but I prefer the 3 I recommended. I'll be reviewing Ghost soon.
______________________________________________________________________________________________________________________


Similar topics
---
Permissions in this forum:
You
cannot
reply to topics in this forum