Page 15 of 15 •

1 ... 9 ... 13, 14, 15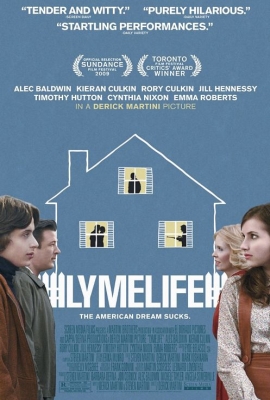 A snapshot into the lives of two families living on Long Island in the late 1970s,
Lymelife
is about their dysfunction and struggle to live happily. You don't see too many happy families in dramas like this, probably because it would be boring. You need the conflict for there to be much reason to watch. The rare optimistic film might peek through but it's the ones that balance the good and the bad -- but generally fall on the side of the latter -- which captivate audiences and remain memorable several days later.
Lymelife
does both of these things.
The first family, the Bartletts, are going through tough times. The father, Mickey (Alec Baldwin), is cheating on the mother, Brenda (Jill Hennessy). The two children, brothers Scott and Jimmy (Rory and Kieran Culkin), are affected by this. We don't see this cheating take place until the film is 1/3 of the way over, but it's implied that when we see it, it's not the first time. Mickey does this sort of thing on a whim, presumably because he's bored. Suburbia can do that to you, I guess, although
Lymelife
doesn't advocate extramarital affairs.
The second group is the Bragg family. Its father, Charlie (Timothy Hutton), has Lyme disease, which is something that would strain even the tightest of families. The mother is Melissa (Cynthia Nixon), who is the woman Mickey is cheating with. Together, the two have a daughter, Adrianna (Emma Roberts), who has been lifelong friends with Scott, the youngest Bartlett. She likes him and he her, but the degree to which they show this is something you'll have to watch play out.
Lymelife
does a great job of building these families. That makes their dismantling so much more powerful. While things aren't great even at the start of the movie -- the seeds have been sown, so to speak -- they're not too terribly off. The small things begin building up, the aforementioned cheating incident happens, and then the dysfunction really comes through. The positive spark to the film is the budding relationship between Scott and Adrianna, much like how the positivity in
Snow Angels
came from its young couple.
I bring up
Snow Angels
because in a lot of ways,
Lymelife
reminded me of it. This film might be more subtle, and might not have the same emotional weight to it, but they take on similar subject matters and aim to have the same sort of impact on an audience. This extends to the surprising, yet fitting endings. One has more ambiguity than the other, and those of you who saw
Snow Angels
know that it's not that one.
Much of the power of a film like this is in the characters. If they feel shallow, or stereotypical, or underwritten, their actions will feel false to us.
Lymelife
's screenplay -- written by Derick and Steven Martini, and directed by the former -- gives each of these characters depth, and the dialogue they have with each other is smart and doesn't pander. They each have a purpose, sure, and the characters might remind you of someone you know, or of tropes you've previously seen, but the film does more with them than that.
It helps that all of the performances are top-notch. And indie drama like this one is an actor's dream, and everyone steps up to the plate. Rory Culkin isn't a household name, but with work like this, he should be. His Scott is a wounded individual with just enough anger bubbling underneath, especially after learning what his father is doing. Baldwin and Hutton play foils to one another. Baldwin is energetic, charismatic and does what he wants, when he wants; Hutton can barely get out of bed in the morning, and there's an overwhelming sadness to his character.
On the female side, Jill Hennessy gets a few scene-stealing moments, particularly when finally having a profanity-filled tirade in the direction of her husband. Cynthia Nixon is more subdued, and if there's one of the main cast that is forgotten -- apart from the other Culkin brother, Kieran -- it's her. Emma Roberts takes what could have been a superficial character and turns it into a more knowing, one, and someone whose relationship with the character played by Rory Culkin is one worth watching.
This is also a film with absolutely gorgeous cinematography. Whether we're exploring the small town or the woods which seem to be around every corner,
Lymelife
looks fantastic. There is one shot at the end -- a blink-or-you-miss-it type of shot -- that is so wonderfully framed that it will make you appreciate the film more as a whole, and possibly force you to rewatch it for similar points. It also adds to the ambiguity of the ending, and I still can't decide what I think happened to some of the characters -- in particular, the fate of a deer which might or might not be completely metaphorical.
Lymelife
is a great film. If you like emotionally affecting indie dramas, ones with strong characters and a great sense of time and space, you'll enjoy this film. It has smart, sharply written characters, fantastic performances, gorgeous cinematography, and accurately captures the degradation of a couple of families. This is one of the good ones, and you should seek it out, even if it's not always an easy watch.

Movie Martyr

Words Go Here




Posts

: 4459


Leprechaun Gold

: 21241


Pineapple Power

: 10317


Join date

: 2010-12-21


Age

: 24


Alignment

: Lawful Good


Location

: Calgary, Canada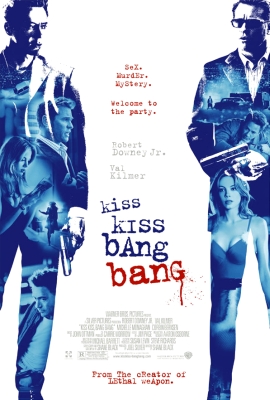 I'm not often a fan of voice-over narration. Many times, it is a technique used lazily in an attempt to explain things to the audience, using "tell" over "show," which is generally a storytelling no-no. It is a film like
Kiss Kiss Bang Bang
which uses the technique to its fullest and actually goes far enough with it to justify its existence in the movies. Now, I'm not suggesting that every film needs to have self-aware, comedic narration like this one does, but using it to benefit the story instead of explaining it is definitely the way to go.
The narrator in this film also happens to be our main character, who is a man named Harry (Robert Downey, Jr.) now in Los Angeles after a theft went wrong and turned into an acting audition -- don't ask how; if you need to know, watch the movie now. He won a part, and is now teamed with a private investigator, Perry (Val Kilmer), in order to improve his acting. What results is a film noir plot which neither of these two characters expected. You don't expect it either, especially because the tone of the film is never more solemn than semi-serious.
I'd be practicing futility if I even attempted to get into exactly what happens in this film. I would also be doing you a disservice. The less you know going in, the better. Suffice to say that dead bodies, pretty girls, and twists and turns all get involved.
Kiss Kiss Bang Bang
doesn't take time to catch you up; if you're not paying attention, you might get lost. The breakneck pace might make you feel like it's missing a scene here or there, but wait a while and eventually it'll all click.
Sometimes there are mistakes in the narration. Sometimes a scene is skipped by our narrator. Harry corrects these later on, often telling us things like "this is terrible narration." It's self-aware and really quite funny. In a few scenes, he'll have a direct impact on what we're seeing. He tells a couple of extras to move out of the way of the camera, and they do it. Later on, he makes a direct comment on how cliché the whole thing is. Does that excuse the clichés? I'm not sure.
Commenting on clichéd storytelling elements but doing nothing about them only serves to bring them into the spotlight. Drawing attention to a problem and not rectifying it does nothing but make the audience more aware of a film's problems. Yes, it's funny in the moment, and making the clichés intentional might count as subverting the genre tropes, but I can't help but think that it's a cheap trick used to hide poor storytelling that the filmmakers couldn't otherwise fix. "If we draw attention to it, people will think it's intentional and won't fault us for it."
Because the tone is so light and because the dialogue is so sharp and funny, I don't really have a problem with the story clichés. They're forgiven not because they are mentioned, but because the film around them is so enjoyable that they hardly matter. The director is long-time writer Shane Black, making his directorial debut, and his dialogue here, while not always purposeful, is always enjoyable to listen to.
Kiss Kiss Bang Bang
reminds me a lot of a Tarantino film, in that the dialogue is interesting even if it has no intention of advancing the plot or characters, and the story itself isn't exactly unique. But the way that these types of films are told, the small interactions and character moments contained within, and the style with which the film has been created -- these all lead to something that feels fresh and is absolutely worth seeing because it separates itself from the rest of the pack.
While it's a smart film that doesn't take the time to explain itself to the confused members, and benefits from not being spoiled beforehand, that doesn't mean that it won't reward viewers who have already seen it. There's a wealth of material in this film, and I don't think many people will be able to absorb all of it in a single go. You'll want to watch it once for the story, and another time to catch all of the little details that make it even better. Perhaps a third viewing will cement it as a fantastic experience.
Carrying the film is Robert Downey, Jr., whose charisma and charm are on full display. You believe him in the beginning as a petty thief, and he also sells you on him as a wannabe-actor-turned-private-investigator. His narration is hilarious and I would believe some of it was ad-libbed. Val Kilmer turns in what's perhaps one of his funniest performance, parodying the "gay cop" trope. And Michelle Monaghan shows up as an atypical femme fatale, wearing a female Santa suit instead of the black dress of old.
Kiss Kiss Bang Bang
is a very enjoyable experience, and I only think it will get better with further viewings. It has excellent dialogue, interesting characters, enough genre subversions to keep things fresh, and three terrific performances from its main actors. The story twists and turns, and it doesn't take the time to explain itself to viewers who watch movies passively. While I'm not sold on the convoluted and clichéd nature of some of the story beats, they're easy to give a pass to because of how good the film surrounding them is.

Movie Martyr

Words Go Here




Posts

: 4459


Leprechaun Gold

: 21241


Pineapple Power

: 10317


Join date

: 2010-12-21


Age

: 24


Alignment

: Lawful Good


Location

: Calgary, Canada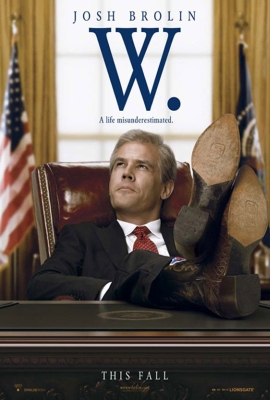 Chronicling his college years to those during which he was President of the United States,
W.
tells the story of the 43rd President, George W. Bush (Josh Brolin). If there was one recent President who has had as much controversy as the younger Bush, I can't think of one.
W.
doesn't attempt to criticize him further; it's actually a relatively sympathetic portrayal of a man who had no business being in office, and who was just following God's word. No, seriously.
The film is presented to us in a non-linear fashion, bouncing around from the 1970s to the last couple of years of the Bush regime. We begin with Bush as a crazy college kid, unable to hold down a job long enough due to a lack of interest and a problem with alcohol. Oh, and his father doesn't love or respect him -- at least, not as much as his brother, Jeb (Jason Ritter). Yes, the older George Bush (James Cromwell) plays a large part in the film, and presumably in the life of Junior. George W. just wants to appease his father and listen to the Good Lord.
I suppose that's why the film doesn't seem like it's terribly negative when it comes to the man and the job he did in office. How can we be critical when all he wants to do is win his father's affection and do what God tells him? He knows he's not the right man for the job -- he doesn't even want to be President, so he says -- but if doing so will solve both problems, and potentially help the world in its desire to stop terrorism, he'll do it. He's a hero, if intentions were all that mattered. He just isn't skilled or smart enough to follow through on them.
The non-linear storytelling style allows director Oliver Stone to juxtapose certain events from Bush's past with the ones happening later on in his life. Or, it would, but the two timelines rarely seem to correlate. There are also some dream sequences involving Bush on a baseball field, or playing out fictional events in his mind. We're getting in his head and the film wants us to get on his side. He's just a man in over his head.
And there are so many people around him who attempt to control him and shape America in their views, not in his. The biggest perpetrator is Vice President Dick Cheney (Richard Dreyfuss), although there are several other people attempting to sway him. It really feels as if
W.
wants to convince us that Bush didn't do anything wrong except say "yes" to the suggestions from those around him. That's fine. We have enough anti-Bush sentiments floating around. One that portrays him as simply naive is at least slightly fairer than one which says he was behind 9/11 and invaded Iraq because he is secretly Satan, or whatever the current conspiracy theory is.
The real question is: How much of the film is true? I think the answer is that it ultimately doesn't matter. The film isn't coming out during a time when it will influence much of the public, and even if it does, what's that going to accomplish? It works as entertainment and it might make you think a bit harder about the time Bush was President, but I don't think it's meant to be true-to-life.
Much of the film is successful because of the actors. You need strong impersonations in a film like this, especially with it coming out not even a decade after Bush held office. In the leading role, Josh Brolin got down the voice and mannerisms of the young Bush, even if he didn't really look like he fit in during the college scenes. Could a younger actor not have been cast to play this point in time? Still, in terms of impersonations, Brolin is superb as Bush once he's aged a bit.
The supporting cast looks and talks similar to how I assume the actual people do. Dreyfuss as Cheney is perhaps the highlight, and the scenes when Dreyfuss clashes with Jeffrey Wright as Colin Powell are among the film's highlights. As the parents, James Cromwell and Ellen Burstyn are fantastic, even if there's less resemblance between them and their son in the film than in real life. Elizabeth Banks shows up as Laura Lane Welch, who later becomes Bush's wife, and has the voice but not the look of the real deal, especially after 30 years pass and she still looks the same age.
W.
marks the third time that Oliver Stone has looked into the life of a President. He was behind
JFK
and
Nixon
, although
W.
reminded me more of
The Queen
, if anything. It's just a select few moments from the man's life, a behind-the-scenes glimpse into the life of someone who has been the talk of an entire country, who has to make a couple of key decisions at crucial times. It's a compelling drama even if you have little opinion of the man at its center.
W.
works and I enjoyed it at its human level, even if it is all a little too convenient. The film is not a complete criticism of the former President, and it gets credit for that. It would have been easy to take the most controversial president in recent memory and try to take down his image at every point, but the film is smarter than that. It's not objective, but it's as close as it could probably get. It has some great performances and impersonations of real people, and as a drama, it works. I recommend giving it a look.

Movie Martyr

Words Go Here




Posts

: 4459


Leprechaun Gold

: 21241


Pineapple Power

: 10317


Join date

: 2010-12-21


Age

: 24


Alignment

: Lawful Good


Location

: Calgary, Canada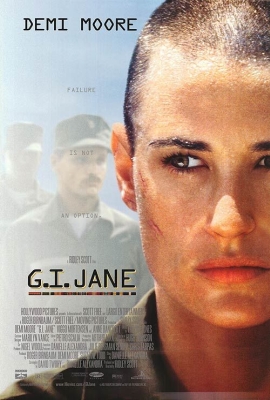 At the core of
G.I. Jane
is the topic of whether or not women should serve in the military. It's at the core, sure, but it's kind of locked away in a vault somewhere, and we're trying to get through to it with a pickaxe. By the end of the picture, perhaps we have our answer, or we might have an unrealistic motion picture in which will and determination overcome any troubles a person can face. Where you stand on the issue is unlikely to be influenced by this movie.
The problem is that there's no depth or subtlety to the picture. Demi Moore stars as a topography expert in the navy named Jordan O'Neill. She is chosen to attempt to complete the most rigorous training program on the planet, which is the one that the Navy SEALs use to train their recruits. We're told that 60% of men who attempt it wind up dropping out, so it's even crazier for a woman to give it a go. Behind the scenes, politics plays a role in attempting to make the military more gender-neutral. If this one test cast goes well, perhaps women won't be as discriminated against. So they hope.
So, we have Jordan O'Neill showing up and essentially going through all of the mandatory training exercises for an hour and a half, followed by a twist and a mission near the end. All of the grueling scenes that the film puts Demi Moore through are effective and feel realistic if you've never been anywhere near the military. If you have, I can't speak for you. They seemed realistic to me, and probably will to the average member of the audience.
I trust that they won't feel too obnoxious to you, either, Mr. Military Man. The film is directed by Ridley Scott, and if you know anything about him you know that he does his research before making a film. There's a good chance he read and watched a ton about military training prior to making
G.I. Jane
. It all feels authentic, and I'd believe that most of it could take place in real training facilities. Watching the singular struggle of this woman against not only a the toughest training ever but also her fellow recruits and the higher ranking individuals is inspiring.
And this is all while demanding to be treated just like the men. At the start of the program, she is given certain allowances because she is a woman -- separate living quarters, extra time allotted on obstacle courses, etc. -- but feeling that this is unfair, she asks that they're done away with. We see all of the characters put through the grinder for weeks and weeks, and by the time the film ends, you feel a little tired from having watched these characters fully exert themselves for the better part of two hours.
The strength of the film is not its script. There's not a lot that you won't see coming, it's often repetitive -- challenge after challenge is thrown at our character, but that's about it for the first 90 minutes of the film -- there's only one character who actually feels more than one-dimensional, and the film's idea of women in the military is handled in such a way that it never really addresses the issue. It entertains and potentially inspires but it doesn't make you think.
I wish there was more meat on its bones.
G.I. Jane
at one point had something more interesting to say, but it got lost among the multitude of training scenes. It could have tackled this issue from multiple sides, or presented to us more of a reason other than "if someone has the will, it can be done," but as entertainment it succeeds. It won't infuriate those on either side of the issue as a result, I suppose, and that might be why this type of approach was taken.
There are two great performances within
G.I. Jane
. The first, as you might expect, comes from Demi Moore, who shaves her head, adds on a great deal of muscle, and is then put through what is likely going to be the toughest shoot of her career. Most of the things she winds up doing in the film can't be easily faked, so it seemed to me as if she really was performing most of the tasks involved in this (fake) Navy SEALs training. She doesn't get a lot of dramatic moments, but as an intense and physically demanding performance, she puts it all out there.
The second comes from Viggo Mortensen, who plays Master Chief John Urgayle, the one leading most of the training. His character has undercurrents of something more, and the way Mortensen portrays him gives hints that there's more to the eye than just a tough, kind of scary man. If the writing had been on-board to give him more of a character to work with, the character would be even more worthwhile. The rest of the supporting cast is fine, but they're largely similar-looking army men who spout similar lines at each turn.
G.I. Jane
works as entertainment and potentially as inspirational material. If you're hoping for a film that has deep ideas and thoughts about whether or not women should be in the military, then you will be disappointed. This is more a film about one person overcoming the odds via determination and willpower. It's exciting, if a touch overlong due to repetition, and it contains a strong lead performance. It just needed to see its central idea through to it becoming something meaningful.

Movie Martyr

Words Go Here




Posts

: 4459


Leprechaun Gold

: 21241


Pineapple Power

: 10317


Join date

: 2010-12-21


Age

: 24


Alignment

: Lawful Good


Location

: Calgary, Canada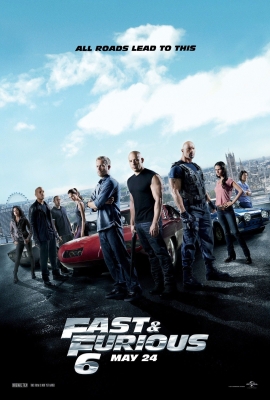 After the bombshell that was dropped at the conclusion of
Fast Five
-- that Letty had somehow survived her supposedly fatal crash -- we knew that a sixth movie was going to be released. With the release of
Furious 6
-- a fitting title, given that it's not really about street racing -- so it does.
Fast Five
made a lot of money, after all so we kind of had to get a sixth installment in the
Fast and the Furious
series, didn't we?
As you might expect, the story focuses on Dom (Vin Diesel) and his crew of street racers trying to get Letty (Michelle Rodriguez) back into their extended "family." The only problem is that she has amnesia and is working for a group of thieves led by Owen Shaw (Luke Evans), who are the bad guys. Agent Hobbs (Dwayne Johnson), from the last film, recruits Dom and his crew to take down Shaw, which he claims can't be taken down with people trained to take down bad guys because ... I'm sure he has his reasons. It's a dumb excuse to get these people together. It's a dumb movie, too, so I guess that's fitting.
In case you forgot, Dom's team consists of: Brian (Paul Walker), who was at one point a cop and then an FBI Agent; Mia (Jordana Brewster), who is Dom's sister and Brian's wife; Roman (Tyrese Gibson), who was Brian's partner in
2 Fast 2 Furious
; Tej (Chris Bridges), who was also in
2 Fast 2 Furious
and I could have sworn said he can't drive anymore but here he is; Han (Sung Kang), the one who will die when the series finally catches up to
Tokyo Drift
, but for now lives and is totally awesome; Gisele (Gal Gadot), who did stuff that nobody cares about in
Fast & Furious
and is now Han's love interest; and Elena (Else Pataky), a cop from the last film who is now here for some reason.
Isn't it fun how a film with six installments can have almost all of the significant characters team up? Well, it's fun if these characters resonated with you or even mattered to you at the time, and for some reason you wanted them back. I had to look up who Tej was, and I re-watched the previous five films before seeing this one.
So, the plot is two-fold. First, the team needs to stop Shaw, whose crew basically acts as a parallel to Dom's -- which you'll notice early on, only to then have it explained to you by Tyrese Gibson, because the filmmakers think you are stupid. Second, and in the process of doing the first, they'll try to rescue Letty and reunite her with the team. I'll spoil something here because I found it a gutsy decision: Letty's amnesia does not disappear in this film. There's no "Hey, I remember everything" scene, and I liked that.
This is basically just an excuse to have action scene after action scene. These are broken up almost exclusively with scenes of exposition you won't care about explaining why the action scenes are necessary. Funnily enough, this leads to the exposition feeling unnecessary. Does anyone in the audience actually care about why we're doing stuff beyond the basic "take down the bad guy" and "rescue Letty"? I know I don't. It doesn't matter; we're here for the spectacle and the action.
As a result, about 1/3 of
Furious 6
works wonderfully. The final third of the film has some of the best action you'll see in a movie, even if it is stretches the credibility of what we'll believe might be possible. Still, it's exciting and if you don't get too hung up on the details -- the world's longest runway gets involved at one point, for example, and if this bugs you (no runway is this long) then you won't enjoy this film -- you're likely going to have a good time.
Some of the action scenes in the middle are fun, too; I just mention the final third because it's relentless and serves as the highlight. Yes, `1/3 of a film can be a highlight. Shut up. There are only a few car chases and only one actual "race," but then
Fast Five
was lacking in street races as well, so I suppose that's just the direction the series is taking at this point. If the films can continue delivering thrills like this one does, I don't really care. It's evolved, and maybe it's done so for the better.
Then again, there isn't really an incredibly bad or good chapter in this franchise. Even at its worst -- which I'll still argue is
Tokyo Drift
-- the series never really got worse than "mediocre." And at its best -- the first, fourth, or maybe this one -- it's just "pretty fun." We're looking at a series that continually skirts the line of "average movie." They're not dull enough to be watchable but not good enough to truly be worth recommending. I've enjoyed them all as mindless entertainment, I suppose. I mean, I didn't have a problem re-watching them all in order to remember the characters and earlier plots. That has to count for something.
At this point, you're kind of on-board or you're not. If you liked the earlier films and want to see another chapter where earlier characters team up to take out a bad guy, then you'll also enjoy this one. The final third alone is worth seeing if you like action, as it's better than most of what you'll be able to see as long as you can ignore the small impossibilities.
Furious 6
, like the other films in the series, isn't great, but it's fun and you're likely to have a good time with it.

Movie Martyr

Words Go Here




Posts

: 4459


Leprechaun Gold

: 21241


Pineapple Power

: 10317


Join date

: 2010-12-21


Age

: 24


Alignment

: Lawful Good


Location

: Calgary, Canada



Jack Ryan: Shadow Recruit
Counting this film, the character of Jack Ryan has appeared on cinema screens five times. He has been played by actors as good as Harrison Ford and as bad as Ben Affleck. The character was created by Tom Clancy, who featured him in a number of novels. None of that matters, because
Jack Ryan: Shadow Recruit
is a reboot that ignores essentially all of that, while also setting a new name in the "Who is the worst actor to play Jack Ryan?" debate.
All of the previous continuity is ignored here, as is much of the source material. This film, unlike the earlier four, is an original story, not based on one of Clancy's novels. That explains why it feels as generic as it does. It was written by film people for what they think audience want out of a popcorn movie. The result is not terrible, thankfully, but simply generic and unmemorable. Save for one extended sequence in the middle, there's little worth seeing or talking about when it comes to
Jack Ryan
.
Our lead is Jack Ryan (Chris Pine), who was a promising student of economics before seeing 9/11, joining the marines, and sustaining a life-threatening injury. His rehab doctor was a medical student, Cathy (Keira Knightley), someone he eventually winds up dating. He's approached during rehab by a CIA Agent named William Harper (Kevin Costner) who offers him a job that still allows him to serve his country, even though he is still unable to properly walk. He's to join a company and spy, relaying accounts that seem out of the ordinary to his superiors. Nobody can know, not even Cathy.
This eventually sees Jack head to Moscow after he sees some things that don't add up. A businessman named Viktor Cherevin (Kenneth Branagh, also the film's director) is hiding things from the Americans. What he encounters is much more serious. The Russians are planning to send America into a second Great Depression, and are going to use a terrorist attack combined with great knowledge of the stock market in order to do it. Now, Jack is the only person who is able to stop them, because he's the title character.
There's a great sequence in Moscow which involves Jack having to break into Viktor's office while Cathy keeps Viktor busy at the dinner table. It's filled with suspense and some great conversation. Apart from this, however, the rest of the film is bland and generic -- so much so that it becomes a struggle to remember earlier parts of the film while you're still watching it. Seen one movie of this ilk and you've seen most of them. It's not often boring but it's completely hollow.
Kenneth Branagh seems an odd choice to direct this type of film. He's someone who seems more at home with Shakespeare than with Tom Clancy. He seems an even odder choice to play the main villain, who's Russian. In the acting department, Branagh's actually the one who stands out the most. He makes for a suave villain whose patriotism matches up well with Jack Ryan's. His Russian accent also sounded very good, although I'm sure someone with more familiarity would notice some flaws that the average ears won't.
Branagh has an eye for detail and composition. That's one of his strong suits as a director. He uses Moscow and its skyline to a great degree. He also makes the terrorist plot surprisingly believable, at least in the moment. I'm sure most of it wouldn't be possible in real life but while you're watching that doesn't matter. Unfortunately, he's not as good at putting together action scenes. The car chases -- plural -- are as dull as they come and the couple of one-on-one fights are chopped up so much that you get the feeling the actors involved had little idea how to do a fist fight.
In fact, one has to wonder why Chris Pine was picked at all. I know it kind of worked with Star Trek, but this isn't the type of person around whom you want to build a franchise. He's so emotionless and he also shows here that he doesn't make for a believable action star. Given that this is a reboot -- complete with different back story -- it's likely Paramount wants this to become a new franchise. I'd suggest a re-cast.
I wonder if there was studio interference with this film. It's not incompetent and it doesn't feel as if it's missing anything, but what does the "Shadow Recruit" of the title have to do with anything? Is it just there to sound cool? It has nothing to do with anything in the movie, as far as I could tell. This might be a minor gripe but I am genuinely puzzled by the film's title.
Jack Ryan: Shadow Recruit
, huh? I'm actually surprised they had the subtitle at all. Isn't it trendy to just have the title of the film the main character's name?
Jack Ryan: Shadow Recruit
is not a terrible or even bad movie. It's just mostly dull and forgettable. It's the type of film you can't get worked up about at all, because that type of investment isn't possible. It's empty entertainment and nothing more. One sequence of suspense, a few laughs -- both intentional and unintentional -- a bland lead, great supporting work and attention to detail from Branagh, and a title that doesn't really make sense, but sounds kind of cool. It's better than it had to be but not good enough to justify seeing.

Movie Martyr

Words Go Here




Posts

: 4459


Leprechaun Gold

: 21241


Pineapple Power

: 10317


Join date

: 2010-12-21


Age

: 24


Alignment

: Lawful Good


Location

: Calgary, Canada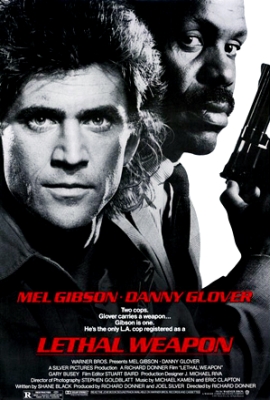 Lethal Weapon
is the type of action-comedy I can really get into. It has strong characters and a narrative which knows when to get involved and when to sit back. It contains inventive action scenes, a couple of good actors who have some strong chemistry, and it's exciting from start to finish. It's hard to think of many action films that are more entertaining than
Lethal Weapon
, and it might just be impossible to put another buddy-cop movie ahead of it in the polls.
The film ostensibly stars Danny Glover as family man and Homicide Detective Roger Murtaugh. He begins the film celebrating his 50th birthday, and it's made clear how close he is to his wife and children. This is juxtaposed against another man, Martin Riggs (Mel Gibson), who lives alone in a trailer by the beach and contemplates putting a bullet in his brain every night. He even has a special bullet picked out so that it he can ensure it finishes the job. He is also a Homicide Detective. The two men don't know it yet, but they're about to be teamed together for the duration of a buddy-cop film.
So, we've got the by-the-rules, overly cautious cop, as well as the loose cannon, got-a-death-wish one. What do we need now? A plot? A plot would probably be pretty nice. They wind up involved in a plot which has heroin, Vietnam War veterans, launderers, and more action scenes than you can shake a stick at. Oh, and Gary Busey plays one of the main bad guys -- he's not actually the top villain, but he does most of the things against our heroes and therefore transcends his henchman role.
Most of the clichés you'd expect to see in this sort of movie are here. The two partners don't initially like each other, but after some time, they grow to do just that. Riggs gets to learn from Murtaugh how important family is and that there are things in life worth living for, while Murtaugh has to learn to let loose a little, and that he's definitely not "getting too old for this." Buddy-cop movies aren't tough to figure out, but as long as they're not boring they are generally harmless.
And if there's something that
Lethal Weapon
definitely isn't, it's being boring. This is an action-packed thrill ride. There are lots of shootouts, a car chase, some scenes with genuine tension, more shootouts -- and it's all well-shot, competently edited, and relatively inventive. You don't see the same thing twice; even the shootouts, of which there are many, seem different from each other. There's also a relatively high body count, and with Riggs' lack of caring, there's a sense of danger in almost every scene.
A key reason that
Lethal Weapon
works is because of the chemistry between Glover and Gibson. In the best of these movies, the two lead actors could drive around in their car for its entirety, simply talking for the two hours, and they'd still be watchable.
Lethal Weapon
has two actors with whom this would certainly be the case. The banter between them is hilarious, and the two play off one another with ease.
Gibson is an actor who had done action films prior to this one, but brings an intensity and charm that makes him invaluable. You believe him in the action, but also as a crazy person. For Glover, this type of picture is a new experience. He plays the straight man of the team, as he should, but he gets a few scenes of great intensity. One in particular has both he and Gibson staring, wide-eyed, seeing who will metaphorically (and literally, I suppose) blink first. It's a fantastic scene and it's preceded and followed by moments of comedy, which gives you a great indication of the type of film
Lethal Weapon
is.
Lethal Weapon
is an unequivocal success. It's really funny, incredibly entertaining, and has some inventive action scenes and great chemistry between its actors. It's at the top of the heap when it comes to buddy-cop movies, and is right near the top when it comes to action movies of the '80s. Danny Glover and Mel Gibson are great as the mismatched duo, Garey Busey is an intimidating villain, and they all get a lot to do in what feels like a short period of time. See
Lethal Weapon
.

Movie Martyr

Words Go Here




Posts

: 4459


Leprechaun Gold

: 21241


Pineapple Power

: 10317


Join date

: 2010-12-21


Age

: 24


Alignment

: Lawful Good


Location

: Calgary, Canada



Page 15 of 15 •

1 ... 9 ... 13, 14, 15


Similar topics
---
Permissions in this forum:
You
cannot
reply to topics in this forum